Molluscan shellfish (hard clams and oysters) are primarily grown in estuarine or inshore coastal waters on submerged lands leased from the State of Florida. The Florida Department of Agriculture and Consumer Services (FDACS), Division of Aquaculture administers the shellfish aquaculture lease program. Leases are 10-year term and renewable with an initial application and annual rental fees. Currently, shellfish aquaculture leases are located in 16 coastal counties. In most counties, individual leases are grouped into Aquaculture Use Zones (AUZs), or high-density lease areas. The FDACS Division of Aquaculture has designated 21 lease areas in 10 counties, including Brevard, Charlotte, Collier, Dixie,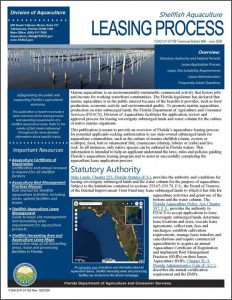 Franklin, Indian River, Lee, Levy, Volusia, and Wakulla. View location of AUZs in the state and availability of lease parcels here. Leases can be transferred or sub-leased upon approval of the agency. In addition, leaseholders may authorize individuals to use, or "share crop", their leases. Individuals may also nominate potential lease sites.
The FDACS Leasing Process publication provides detailed information on the steps involved – from identifying a site and site inspection to resource survey, agency review, public notification, and authorization by the Governor and Cabinet. Once the lease is approved, the new leaseholder is responsible for having the site surveyed. Leaseholders must also properly install and maintain lease markers.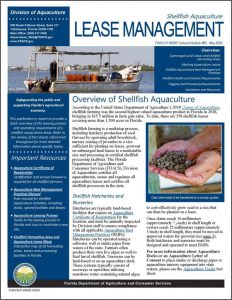 An individual may apply for an aquaculture lease by completing an application form (fillable pdf) and submitting an application fee. The applicant must describe the proposed culture activities and develop a business plan. Minimum planting requirements must also be identified in the application. Before applying, it is recommended that you first contact agency representatives in the FDACS Division of Aquaculture.
The FDACS Lease Management publication provides a basic overview of the operating requirements of a shellfish aquaculture lease. Refer to the variety of fact sheets referenced throughout for more detailed information about specific topics, such as aquaculture certification, BMPs, net coatings, gear management, and harvesting requirements.