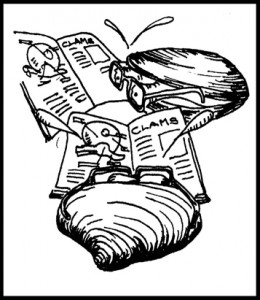 The following publications cover a variety of topics pertaining to molluscan shellfish aquaculture. The majority of the publications are extension fact sheets from the University of Florida (UF), USDA Southern Regional Aquaculture Center (SRAC) (of which UF is a part), and USDA Northern Regional Aquaculture Center (NRAC). Pertinent technical papers are also provided from Florida Sea Grant (FSG), Georgia Sea Grant (GSG), South Carolina Sea Grant (SCSG), and the Food and Agriculture Organization (FAO) as well as technical bulletins from the Florida Department of Agriculture and Consumer Services (DACS) Division of Aquaculture.
All University of Florida extension publications–covering a wide variety of topics including profitable and sustainable agriculture, environment and natural resources, 4-H and other youth programs, Florida-friendly landscapes, communities that are vibrant and prosperous, and economic well-being and life quality for individuals and families can be found at the UF Electronic Data Information Source (EDIS).
Publications are in an Adobe Acrobat PDF file format. The free Adobe Acrobat Reader allows you to view, navigate, and print PDF files across all major computing platforms.
Seed Production Publications |Shellfish Production Publications | Other Publications | Youth Education | 
Florida Sea Grant Publications | Newsletters
Seed Production Publications


Hatchery

Nursery

Algae Culture

Shellfish Production Publications


Clam Production

Oyster Production

Other Molluscs

Other Publications


Water Quality

Health

Managing Diseases in the Hatchery through Bacteriological Monitoring

Economics and Business Management


Regulations
Youth Education

Introduction to Florida Aquaculture (Sessions developed for High School students include presentations, handouts, and activities)
Recirculating Systems, Brian Catanzaro, Pentair Aquatic Ecosystems, 18 June 2018
Aquatic Plant Culture, Brandon McLane, Florida Aquatic Nurseries, 9 July 2018
Shellfish Aquaculture Regulations and Leasing Process, Portia Sapp and Charlie Culpepper, DACS Division of Aquaculture, 16 July 2018
Food Fish, Lauren Evans, Evans Fish Farm, 23 July 2018
Ornamental Fish Culture, Eric Cassiano, UF/IFAS Tropical Aquaculture Lab, 30 July 2018
Alligator and Reptile Culture, Allen Register, Gatorama, 6 August 2018
Water Quality and Non-Infectious Diseases, Ruth Francis-Floyd, UF/IFAS College of Veterinary Medicine, 14 March 2019
Infectious Diseases and Treatments, Ruth Francis-Floyd, UF/IFAS College of Veterinary Medicine, 15 March 2019
Florida Sea Grant Aquaculture Publications

To order publications, email the publication number and title to info@flseagrant.org. Be sure to include your mailing address and phone number.
To view Florida Sea Grant publications on seafood, healthy oceans, fisheries, and other coastal topics, visit their website.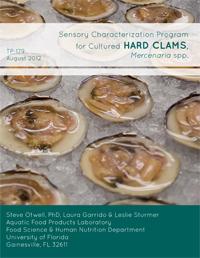 TP-179
August 2012
Otwell, S.; L. Garrido and L. Sturmer
A sensory characterization program has been developed for cultured hard clams Mercenaria mercenaria, southern quahogs M. campechiensis, and their hybrids using established protocol with screened and trained panelists. This sensory program can be used by investigators assessing product quality and shelf life, or commercial interests trying to distinguish products by location, season, or process. Popular use could lead to local product distinctions or appellations that stimulate and attract consumer interests
.
---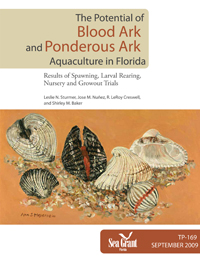 TP-169
September 2009
Sturmer, L.N.; J. M. Nunez; R. L. Creswell; and S.M. Baker
This document presents research on two alternative species, the blood ark (Anadara ovalis) and the ponderous ark (Noetia ponderosa). The information presented is not a hatchery or growout manual, but is provided as a reference for shellfish hatchery operators and growers, resource managers, and others who may be considering the culture of blood or ponderous arks as alternative or additional species.
---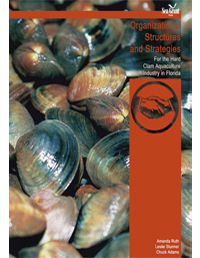 TP-141
January 2005
Ruth, A., L. Sturmer and C. Adams
This study provides guidance on statewide organization for the commercial hard clam culture industry in Florida. The study characterizes the structure of and identifies strategies for successful agricultural and aquacultural organizations designed to provide the resources needed to solve current and projected industry problems
.
---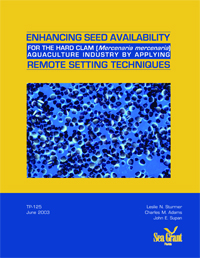 TP-125
April 2003
Sturmer, L.; C. Adams and J. Supan
Hard clam aquaculture has developed rapidly in Florida as well as in other states in the southeast. Remote setting of hard clam seed would allow growers to become less dependent upon traditional seed sources, potentially reduce the cost of seed, and help ensure a greater chance of success by gaining control of and incorporating another step into their existing business. The goal of this study was to test a technology that may help ensure a reliable and consistent supply of high quality and inexpensive clam seed to growers
.
---
TP-122
September 2002
Sturmer, L.; M. Zylstra and C. Adams
The CLAM software package assists commercial hard clam growers in managing the information concerning their nursery and growout operations. CLAM allows growers to better track their clam inventory, map lease sites and keep track of where clams are located within each lease. CLAM also provide growers a means to keep track of costs and earnings over the course of a production cycle
.
---
SGR-123
December 2001
Philippakos, Effie; C. Adams; A. Hodges; D. Mulkey; D. Comer; L. Sturmer
Aquaculture products are an important sector of the Florida economy, with $86 million in farm-gate sales in 1999. Cultured hard clams (Mercenaria mercenaria) were the second-largest component of these sales. This document reports the economic impact of the clam industry on the region and state. Data for this report was collected via a survey of Florida certified shellfish wholesalers that handle Florida cultured hard clams.
---

TP-106
October 2000
Blake, N.; Adams, C.; Degner, R. and Sweat, D.
The Florida Marine Fisheries Commission banned the commercial harvest of the American bay scallop (Argopecten irradians) from wild stocks in Florida and no previous attempts have been made to examine the aquaculture potential of the species in Florida. The goal of this study was to develop a new fishery resource product through open-water aquaculture for the west coast of Florida that would compete as a non-traditional product through market development.
---
Newsletters