Risk in oyster farming, as in all agriculture and aquaculture production, is any event that a grower cannot control but affects the grower's operation. However, various types of risk can be forecasted based on historical events and trends. A financial tool has been developed using these findings, which allows oyster growers to generate predictive costs and revenues for their farms and investment situation. This Calculator quantifies environmental and economic risks associated with oyster culture using damage reports, grower estimates, and historical data. Developed using Microsoft Excel 2018, the Calculator is compatible with previous Excel versions. First, growers enter their individual farm information over a 5-year planning period. Then, risks based on probabilities determined for four counties (Escambia, Franklin, Levy, Wakulla) on Florida's west coast are applied to determine potential net income values. The Calculator allows oyster growers to better understand how risk affects profitability.
The Calculator was developed by Rusty Dame, a graduate student in the University of Florida/IFAS Food and Resource Economics Department, and Leslie Sturmer with UF/IFAS Extension. Rusty's master's thesis sought to determine how risk affects the profitability of oyster aquaculture on the west coast of Florida. Funding for this project was obtained from NOAA National Sea Grant through the Aquaculture Extension and Technology Transfer Program.
To access the Oyster FARM Calculator (Beta version 1) click here.
The link will direct you to a Google file download. Click the download icon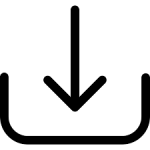 in the upper right-hand corner. A prompt will appear to Open or Save the file, click "Open". Once the file is opened in Excel, click on the "Enable Editing" button in the Protected View heading. Next, click on the "Enable Content" button in the Security Warning heading.
To learn more about how oyster culture risks were assessed, view the news blog article posted at the Online Resource Guide for Shellfish Aquaculture website here.