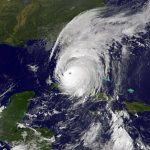 One of the most intense Atlantic hurricanes in recent history, Hurricane Irma proved to be a fierce storm that left behind a path of destruction through Florida, from the Keys to Jacksonville and many areas in between. Many of Florida's shellfish producing counties have been affected by the storm and assessment of losses is ongoing. Below is a summary of resource information being released through our state and federal agriculture agencies. More information will be posted as it is forthcoming.
U.S. Department of Agriculture (USDA) Response
According to a USDA News Release dated September 13, Agriculture Secretary Sonny Perdue announced special procedures to assist producers who lost crops or had other damage to their farms as a result of the recent hurricanes. Also, because of the severe and widespread damage caused by the hurricanes, USDA will provide additional flexibility to assist farm loan borrowers.
USDA's Farm Service Agency (FSA), is authorizing emergency procedures on a case-by-case basis to assist impacted borrowers, livestock owners, contract growers, and other producers. The measures announced apply only to counties impacted by a National Oceanic and Atmospheric Administration-determined tropical storm, typhoon, or hurricane, including Harvey and Irma that have received a primary Presidential Disaster Declaration and those counties contiguous to such designated counties.