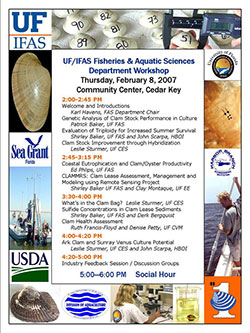 Agenda
Genetic Diversity in Florida Commercial Clams
Enhancing Production of Cultured Clams in Florida by Triploidy
Coastal Eutrophication and Productivity of Clams and Oysters
CLAMMERS (Clam Lease Assessment, Management, & Modeling using Remote Sensing)
What's in the Clam Bag?
Sulfides in Sediments and Water: Effects on Clams
Health Assessment of Cultured Clams in Florida
Investigation of Ark Clam Culture and Marketability
Sunray Venus Clam Potential as a New Culture Species
Presentations
Click once on "play button" to start automatic play. Double-click "play button" for full screen viewing and play options.
Report on Genetic Diversity in Florida Commercial Hard Clams,
Mercenaria mercenaria

Enhancing Production of Cultured Clams in Florida by Triploidy

Coastal Eutrophication and the Productivity of Clams and Oysters

CLAMMRS Project

What's in the Clam Bag?

Sulfide Concentrations in Sediments and Water: Influence of Hard Clams

Preliminary Health Assessment of Cultured Hard Clams,
Mercenaria mercenaria, in Florida

Investigation of Ark Clam Culture and Marketability

Sunray Venus Clams: New Species to Diversify the
Florida Hard Clam Aquaculture Industry