[elementor-template id="6370″]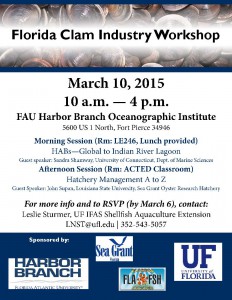 March 10, 2015
A special Clam Industry Workshop, co-hosted by the Florida Atlantic University-Harbor Branch Oceanographic Institute (FAU-HBOI), University of Florida IFAS, and Florida Sea Grant, was held on March 10 at the HBOI campus in Fort Pierce. A morning and afternoon session provided current information addressing two topics identified by the clam culture industry as critical needs.
Morning Session:
Water Quality—From a global overview
to the Indian River Lagoon
Topics and guest speakers included:
Shellfish Aquaculture: Impacts on environment, impacts of the environment on culture, and the role shellfish may or may not play in mitigating coastal eutrophication
Sandra Shumway, University of Connecticut, Department of Marine Sciences, Editor of Journal of Shellfish Research and Journal of Harmful Algae
Role of nutrients on harmful algal blooms in the Indian River Lagoon
Brian LaPointe, FAU-HBOI Marine Ecosystem Health
Land/Ocean Biogeochemical Observatories (LOBO) for intensive, real-time water quality sampling in the Indian River Lagoon
Dennis Hanisak, FAU-HBOI Marine Ecosystem Health
The Indian River Lagoon Protection Initiative
Chuck Jacoby, St. Johns Water Management District
Panel Discussion with scientists, agency representatives, and clam industry members
Handouts
Evidence of sewage-driven eutrophication and harmful algal blooms in Florida's Indian River Lagoon
Brian E. Lapointe, Laura W. Herren, David D. Debortoli, and Margaret A. Vogel. Harmful Algae 43 (2015) 82–102.
Scales of temporal and spatial variability in the distribution of harmful algae species in the Indian River Lagoon
Edward J. Phlips, Susan Badylak, Mary Christman, Jennifer Wolny, Julie Brame, Jay Garland, Lauren Hall, Jane Hart, Jan Landsberg, Margaret Lasi, Jean Lockwood, Richard Paperno, Doug Scheidt, Ariane Staples, and Karen Steidinger. Harmful Algae 10 (2011) 277–290.
From red tides to green and brown tides: Bloom dynamics in a restricted subtropical lagoon under shifting climatic conditions
Edward J. Phlips, Susan Badylak, Margaret A. Lasi, Robert Chamberlain, Whitney C. Green, Lauren M. Hall, Jane A. Hart, Jean C. Lockwood, Janice D. Miller, Lori J. Morris, and Joel S. Steward. Estuaries and Coasts (2014) DOI 10.1007/s12237-014-9874-6.
Presentations
Land/Ocean Biogeochemical Observatories (LOBO) for intensive,
real-time water quality sampling in the Indian River Lagoon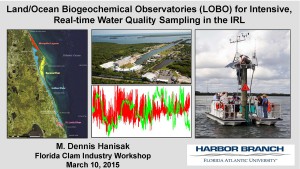 The Indian River Lagoon Protection Initiative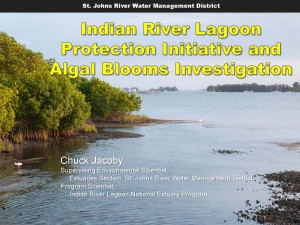 Red tides, green tides, and brown tides in the Indian River Lagoon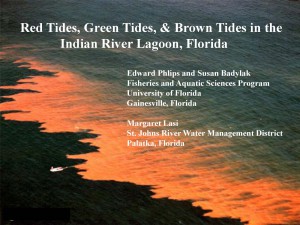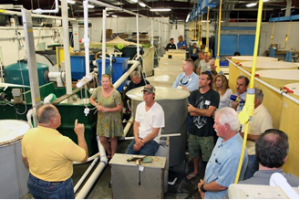 Afternoon Session:
Bivalve Hatchery Management from Algae to Zygote
Managing diseases in the hatchery through bacteriological monitoring—supplies needed, procedures, where to take samples and what they mean
Susan Laramore, FAU-HBOI Aquatic Animal Health Laboratory and Rolland Laramore
"Walk the Talk" through HBOI's hatchery—operation, management and troubleshooting tips
John Supan, Director of the Louisiana Sea Grant Oyster Hatchery, Grand Isle, LA
Handouts
Presentations
Increased bivalve hatchery and nursery production through improved management