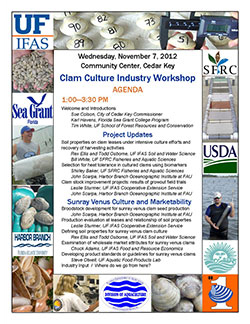 Agenda
Soil Properties on Clam Leases under Intensive Culture Efforts and Recovery of Harvesting Activities
Selection for Heat Tolerance in Cultured Clams using Biomarkers
Clam Stock Improvement Projects: Results of Growout Field Trials
Focus on Sunray Venus Clam Culture and Marketability:

Broodstock Development for Seed Production
Production Evaluation at Leases and Relationship of Soil Properties
Defining Soil Properties for Culture
Examination of Wholesale Market Attributes
Developing Product Standards or Guidelines
Industry Input / Where Do We Go from Here?
Presentations
Click once on "play button" to start automatic play. Double-click "play button" for full screen viewing and play options.
Soil Properties on Clam Leases under Intensive Culture
Efforts and Recovery of Harvesting Activities

Selection for Heat Tolerance in Cultured Clams using Biomarkers

Clam Stock Improvement Projects: Results of Growout Field Trials

Focus on Sunray Venus Clam Culture and Marketability
Broodstock Development for Seed Production

Production Evaluation at Leases and Relationship of Soil Properties

Defining Soil Properties for Culture

Examination of Wholesale Market Attributes