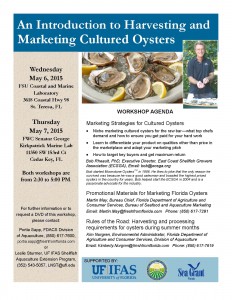 The fourth set of workshops focused on marketing strategies for cultured oysters as well as regulations pertaining to oyster harvesting and processing during summer months.
Topics and guest speakers included:
Marketing Strategies for Cultured Oysters

Niche marketing cultured oysters for the raw bar—what top chefs demand and how to ensure you get paid for your hard work
Learn to differentiate your product on qualities other than price in the marketplace and adapt your marketing pitch
How to target key buyers and get maximum return
Bob Rheault, Executive Director, East Coast Shellfish Growers Association
Handout

Presentations
Click once on "play button" to start automatic play.
Double-click "play button" for full screen viewing and play options.

Marketing Strategies for Cultured Oysters
Harvesting and Processing Requirements for Oysters during Summer Months