[elementor-template id="6429″]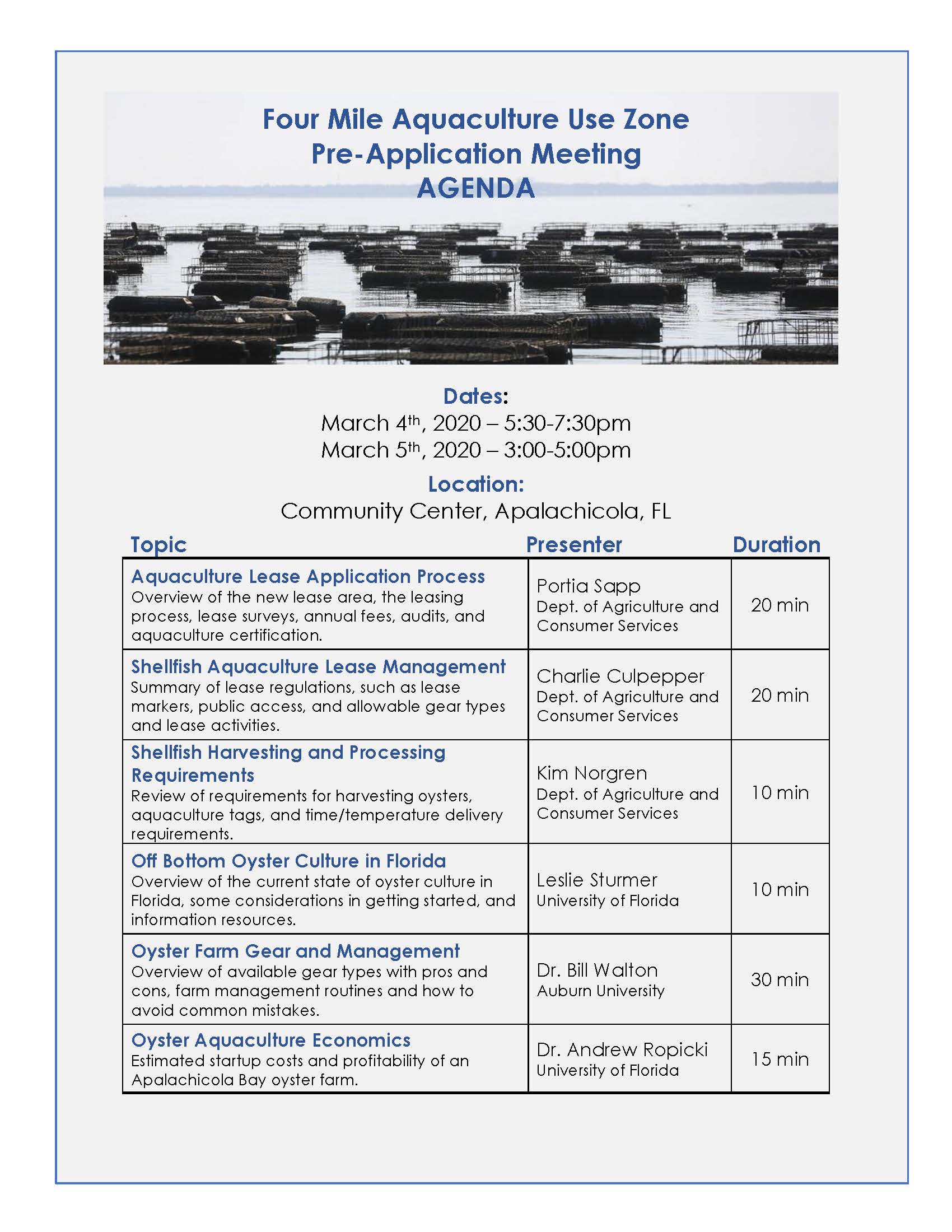 March 4-5, 2020
These pre-application workshops were held in Apalachicola to provide information about the application process and to inform those interested in applying about pertinent rules, oyster farming gear and management, and financial considerations in setting up an off-bottom oyster farm. 
Topics and guest speakers included:
Lease and Aquaculture Certification of Registration Application Process, Portia Sapp, FDACS Division of Aquaculture
Aquaculture Lease Management Rules, Charlie Culpepper, FDACS Division of Aquaculture
Shellfish Harvesting and Processing, Kim Norgren, FDACS Division of Aquaculture
Current State of Florida's Oyster Aquaculture Industry, Leslie Sturmer, University of Florida/IFAS, Shellfish Aquaculture Extension
Oyster Farm Gear and Management, Bill Walton, Auburn University Shellfish Lab
Oyster Aquaculture Financial Considerations, Andrew Ropicki, University of Florida/IFAS, Food and Resource Economics
Handouts
The Florida Department of Agriculture and Consumer Services (FDACS) has been granted authorization to establish the Four Mile Aquaculture Use Zone in Apalachicola Bay and to execute 38 submerged land leases for use of the full water column. FDACS will accept lease applications from March 6 through March 20, 2020. Download the following support documentation.
Presentations & Videos
Presentations are available as printable PDFs and videos below.
*Please note, some details in this video are specific to an Apalachicola lease area and don't apply to new leases in other areas.
Lease and Aquaculture Certification of Registration Application Process
Aquaculture Lease Management Rules
Shellfish Harvesting and Processing
Current State of Florida's Oyster Aquaculture Industry
Oyster Farm Gear and Management