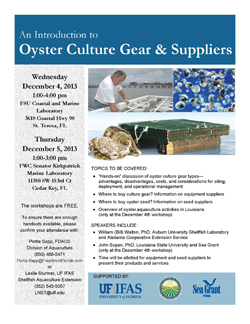 In the second set of workshops, "hands-on" presentations were given by guest speakers describing a variety of offbottom production gear, site selection and deployment considerations, gear strengths and weaknesses under different conditions, suppliers' information, and sources of diploid and triploid oyster seed. Request a copy of the DVD to view these presentations (see Contact Us).
Guest speakers included:
Handout
Off-bottom Oyster Culture Gear Types, Mississippi – Alabama Sea Grant Program and Alabama Cooperative Extension Service, MASGP Publication Nos. 12-013-01,02,03,04
Suppliers
Suppliers of oyster culture gear and other products are listed alphabetically below. These are provided as a service of the UF IFAS Shellfish Aquaculture Extension Program. We do not sponsor or endorse any of these suppliers over others.
Atlantic Aquaculture Supply manufactures and distributes custom aquaculture grow-out systems and supplies.
BST Oyster Supplies manufacture and supply a complete range of products required for the Adjustable Longline System for growing oysters.
C.E. Shepherd manufactures welded stainless steel wire mesh, galvanized welded wire mesh, PVC coated welded wire mesh, twisted wire mesh, and other products.
Chesapeake Bay Oyster Company is a supplier of a variety of oyster culture equipment, tools, and accessories.
Eastfields Farms is a distributor for full range of American-made oyster growout bags and oyster net rolls for remote setting and reef-shoreline protection.
Go Deep International is a manufacturer and distributor of navigation buoys, solar navigation lights, and shellfish aquaculture equipment.
Industrial Netting manufactures and distributes a wide range of durable plastic netting and tubing to meet the needs of a variety of aquaculture applications.
Ketchum Supply is a manufacturer and supplier of wire mesh trays, racks, and cages, along with other products and accessories used in oyster aquaculture.
Nelco Products provide products for marking and identifying shellfish aquaculture lines and gear
OysterGro supplies a floating farming system used for single cup oyster production.
Riverdale is a manufacturer and distributor of welded wire mesh materials used for a wide range of applications in shellfish aquaculture.
SEAPA specializes in the design and supply of molded plastic aquaculture products, in particular oyster baskets, attachment systems, and accessories.
ShouAn Aquaculture Cage is a manufacturer and distributor of a variety of oyster culture equipment including mesh, growing bags, foam float bags, and farm equipment.
Zapco Aquaculture is a manufacturer of off-bottom single seed oyster cultivation products and accessories.
Presentation